Feds issue emergency alert ordering law enforcement to prepare for attack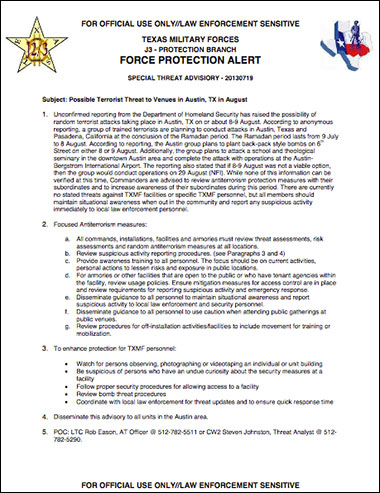 Click on image to read PDF.
Law enforcement agencies in Texas have received a special threat advisory based on information provided by the Department of Homeland Security indicating Austin, Texas, has been singled out for a terrorist attack on Friday, August 9. Pasadena, California, is also mentioned in the advisory.
The document was provided to Infowars.com by sources in the Texas State Police on Thursday evening.
"According to anonymous reporting, a group of trained terrorists are planning to conduct attacks in Austin, Texas and Pasadena, California at the conclusion of the Ramadan period," the document marked for official and law enforcement use states.
Read full article at Infowars.com
[mailpoet_form id="1"]
Print Friendly