Welcome to this week's Sunday Survival Buzz – a roundup of preparedness news, tips, articles and recommendations from around the web.
But first, an update on my own preps.
We had a medical emergency in my household that resulted in my taking off Tuesday afternoon for the Seattle area. Given all of the recent seismic activity in my area – off Vancouver Island to be exact – I made sure my Bug Out Bag was well stocked and in the car for the trip south. Luckily, there was no earthquake but I did need some of the items from my kit for other purposes.
It just goes to show you that you never know. In my case, I needed energy bars, some first aid items and a flashlight. Next time, who knows? Feeling a bit exposed, I am putting together a complete duplicate of my primary kit for each car. As I say, you just never know.
When I returned home last night, I ordered some additional essential oils, namely peppermint oil
and a new bottle of lavender oil. My interest in the peppermint oil has to do with using it in my DIY cleaners and of course lavender, being both soothing and antiseptic is useful for so many things.
Okay, enough about me. Let's get on to the Sunday Survival Buzz.
Survival News & Articles from Around the Web
San Juan County Votes to Ban GMOs: I am thrilled to report that my little island-based community has voted to ban GMO crops. With just a few exceptions, the MSM has ignored this important vote but that does not make me any less proud. Next up? Washington State I-522 proposes GMO labeling in our state by July 2015.
How to Keep your Cell Phone Working During a Power Outage: There are some good ideas in this article. The first one, leave an outgoing message and turn the phone off to conserve power, is something I used to do in the early days of cell phones when a typical cell phone battery charge lasted only 8 hours or so. I thought I would mention that I have used the hand crank on my Kaito Voyager to easily charge up my cell phone so do not discount the usefulness of a hand-crank radio.
Printable Cheat Sheet for Common Kitchen Measurements: This would have come in quite handy as I was trying to size down recipes for DIY Laundry Detergent.
Speaking of which, reader "Russ" reports the following prices at Walmart for the ingredients used for both the laundry detergent and the Fels Naphtha stain remover:

Washing Soda – $3.24
Borax – $3.38
Fels-Naphtha – .97

See what I mean about shopping around and not getting ripped off?
10 Best Survival Fiction Books: Activist Post posted a list of the 10 best books in the Survival fiction genre.
Devastation at the Jersey Shore – Before and After: If you are like me, you are on a bit of overload when it comes to disaster photos. But this is something different. In each picture frame there is a black line, if you drag it back and forth across the picture it will show you before and after. These shocking photos would be something to share with friends and family that are in disaster denial.
Backdoor Survival Tip
One of the very basic skills you should learn to help save lives is CPR. Continuous Chest Compression CPR is the newest technique that can be used be used to double a person's chance of surviving cardiac arrest. I encourage you to watch this short video and share it with your friends.
 First, yell out to have someone call 911 or locate a defibrillator. (Portable defibrillators have gotten so inexpensive that you can now find them in many office buildings and public places.)
Next, roll the victim onto his or her back. Put the heel of one hand down on the chest between the nipples. Put the heel of the second hand on top of the first, and interlock your fingers. Line your shoulders up over your hands and lock your elbows.
Now you are ready to compress. Use the weight of your torso through your shoulders and locked elbows to compress the victim's chest. Then immediately release your weight so the victim's chest springs back up. Do this rapidly, about 100 times per minute, until professional help arrives.
The only thing you do is pump on the chest until professional help arrives. You do it even if the person is gasping.
Studies have shown CCC to be more effective than traditional CPR, possibly because it is much easier to remember and administer, and anyone can do it. Just start pumping and wait for professional help to arrive.
The Honor Roll and Other Announcements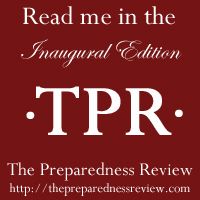 If you have not done so yet, download your free copy of The Preparedness Review by clicking below. As I write this, there have been over 9,600 downloads since TPR was released ten days ago. That is simply amazing and a credit to the hard work that went in to compiling this worthwhile journal.
The newest addition to the Backdoor Survival Honor Roll (which you will find on the Recommended Sites page) is Prepography. Andrew is also a contributor to the inaugural edition of the Preparedness Review and his timely article on Veterans Day Etiquette is a worthy read.
News From our Sponsor
Sponsor Ron Brown (Lanterns, Lamps & Candles) is helping me out with an article on electricity. He knows so much about so many things, I appreciate his being a resource for me.
As with all of my sponsors, please visit Ron's site and check out his book. Also visit the Backdoor Survival Sponsors page and support the fine companies that allow me to keep Backdoor Survival free for everyone.
Absolute Rights
On Friday, my article 12 Preparedness Tips for Families with Children was featured in the weekly newsletter from Absolute Rights. I am a monthly contributor to this free weekly newsletter that is delivered by email on Fridays. Click here to subscribe.
The Final Word
The drama of the past two weeks has worn me down. What with the storm, the election and the daily drill of getting through life, my mind, body and my psyche are tired. For my sake, as well as everyone else, I am hopeful that we, as citizens of the world, can get past recent events and move on to the present.
What has happened has happened.
Why not take this opportunity to refresh your outlook and to return to the task of increasing your own self-reliance and your ability to survive by learning some new skills, reading some new books and perhaps most of all, continuing to add to your preps with spirit, enthusiasm and a sense of optimism.
Enjoy your next adventure through common sense and thoughtful preparation!
Gaye Levy, also known as the Survival Woman, grew up and attended school in the Greater Seattle area. After spending many years as an executive in the software industry, she started a specialized accounting practice offering contract CFO work to emerging high tech and service industries. She has now abandoned city life and has moved to a serenely beautiful rural area on an island in NW Washington State. She lives and teaches the principles of a sustainable and self-reliant lifestyle through her website at BackdoorSurvival.com. At Backdoor Survival, Gaye speaks her mind and delivers her message of prepping with optimism and grace, regardless of the uncertain times and mayhem swirling around us.
[mailpoet_form id="1"]
Print Friendly