Created in 2002 without much public discourse, the Northern Command (Northcom) now sees Pentagon activities expanding dramatically across the continental United States, giving the military purview over droughts, wildfires, and public protests.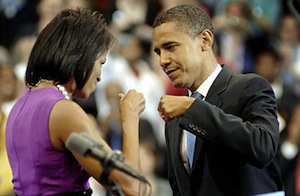 But is it legal, or even constitutional? That's a question Northcom's massive legal team is still struggling to come to grips with, as a command that was supposed to be aimed at defending against incoming missiles is turning into an all-encompassing leviathan with interests across the board.
Exactly how much is already being done is even a matter of legal battles, as the ACLU has been struggling for years to get a handle on how big the active duty military deployments inside the United States already are, and how much bigger they are liable to get.
Seeking Northcom's aid with hurricane relief has turned them into an all-purpose weather response force. Emergency response morphed into a possible military role in medical quarantines during the swine flu scare. Seeking their involvement into anti-terror operations has raised the prospect of domestic military surveillance at unprecedented levels. And surveillance of "terrorists" inevitably means surveillance of all domestic opposition factions, regardless of what they are opposing.
For most of American history the US military's domestic role has been virtually non-existent, with small and hotly debated exceptions and a well-defined limit on using the military domestically. Northcom's growth has been so fast and so poorly understood that it is no longer clear which, if any, of the existing laws on the books are being followed, and which have been brushed aside in the name of military expediency. This has left their own legally team forever doing catchup, and stuck trying to come up with legal justifications after the fact.
[mailpoet_form id="1"]
Print Friendly